Who are we?
The UK Values Alliance is a collaborative group that is seeking to promote values in society.  Its members are individuals and organisations who are either interested or active in the field of values – Personal, Organisational or Societal.
Click on the image below to download our presentation.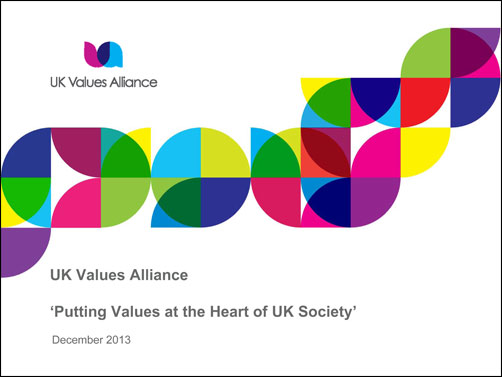 The Alliance formed as a result of the UK National Values Survey (October 2012), which revealed a significant gap between the personal values of UK residents and their perception of the prevailing national values.
There was a strong desire for action to be taken to address this situation and to put values at the heart of UK culture.
Our belief is that through collaboration and learning together, we can make an even bigger difference than we could by acting alone.
Why do we exist?
Our stated purpose is to build a better UK society by helping individuals and organisations be more aware of, understand and live their values.
Initially our focus will be aimed at raising awareness of the benefits of values to individuals, organisations and society as a whole.  We will help people understand what values are and explain the benefits of aligning behaviours and values.
Where desired, we will actively help individuals and organisations to articulate and live their values in practice.
Members have met a number of times to share information and learn more about each other's values, our interest in values and our work related to values. We have begun to collect evidence from around the world on the effectiveness of values programmes.
We are planning campaigns to raise awareness of values and we are reaching out to other organisations active in this field.
What do we do?
We focus on debate and activities to integrate values into society.
How do we work together
We are a diverse group, but our organisation is based on the following shared values:
Compassion
Empowerment
Collaboration
Learning
Making a difference.
We have good, healthy debate, as we hold different perspectives on values. We are all agreed on one thing – what we are really about is:
'Putting values at the heart of UK society'.
How can people get involved?
Anyone who is interested in the field of values is welcome to join the Alliance.  Some of our members are highly active.  Some want to keep informed.  Some are highly knowledgeable.  Some are here to learn. All are welcome.
For more information, connect to us through our Contact page.
Where  can I see a List of  Members?
A list of current members will be made available to members that request it.