Who are we?
The UK Values Alliance is a collaborative group that is seeking to promote values in society.  Its members are individuals and organisations who are interested, and in most cases very active, in the field of values – Personal, Organisational or Societal.
The Alliance was originally formed as a result of the UK National Values Survey (October 2012), which revealed a significant and disturbing gap between the personal values of UK residents and their perception of the prevailing national values. There was a strong desire do something which would bring people together to address and if possible rectify this situation.
We feel strongly that by working together we can make a much greater difference than we can by acting on our own.
Why do we exist?
We want to help individuals, groups and organisations to become more aware of their values, to improve their understanding of them, and to live them more completely in their daily lives.
We believe that this can be lead to truly transformational change, improving the wellbeing of individuals, groups and organisations, and society as a whole.
Our aim is no less than to put values at the very heart of UK society, and we also hope that this may help inspire others to do something similar in other parts of the world.  We do not support any particular set of values, rather we encourage individuals and organisations to understand which values are most important to them.
What do we do?
We hold regular meetings of our members and guests in London (we hope to see these spreading in due course to other parts of the country).  These meetings involve a lively exchange of information and ideas about new initiatives, best practice, current research, and other areas of common interest, See our Events page for more details.
Above all, the meetings provide a platform for us to work together productively on initiatives which will advance our overall aim of making a real and lasting difference to society.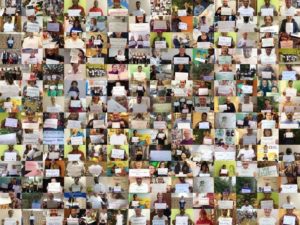 People around the world show their most important values
Perhaps the most exciting of these initiatives so far has been World Values Day, which since 2016 has become rapidly established in the calendar in the UK and around the world as a  popular annual celebration of values, occurring on the third Thursday of October each year.
The UK Values Alliance took the lead in setting up World Values Day and driving it forward, but it is very much a collaborative effort with dozens of large and small organisations from all over the world working with us to organise and support the plethora of diverse physical and virtual events and activities that take place on or around the Day. These include conferences, workshops, discussions, awards and online cafés, with participation across many countries and continents.
The Values Challenge was launched in 2017and immediately became one of the most exciting elements of World Values Day. It is a highly focused one-hour session devised jointly by the UK Values Alliance in collaboration with the Forward Institute, the RSA (the Royal Society of Arts) and PriceWaterhouseCoopers (PwC), which individuals, community groups and organisations of every kind can download and run for themselves on or around World Value Day. It is especially aimed at organisations or groups which may have a clear statement of values but where these values are not really being fully practised on a daily basis – in reality, of course, this applies almost everywhere.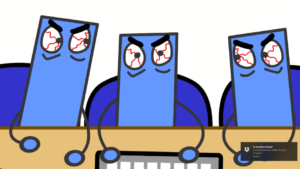 Animation introducing the Values Challenge
Other interesting initiatives currently being worked on include Wake Up To Values, a three-month programme designed to help organisations to engage and motivate all their stakeholders in bringing their organisational values to life.
How do we work together?
We are a diverse group, but our organisation is based on shared values. We value being:
Initiators – igniting awareness and creating opportunities to make good things happen
Collaborative – creating connections enabling cooperation and collective effort as one community/movement
Compassionate – embracing and appreciating difference, amplifying diverse voices and experiences of values in action
Learners – actively seeking knowledge, skills and insights to grow stronger together
Practical – taking action and reflecting on the impacts to progress our purpose
The broad range of experience and different perspectives of our members provide some healthy and productive debate on values, but we are all clearly agreed on one thing – that what the Alliance is really about is:
'Putting values at the heart of UK society'.
How can people get involved?
Anyone who is interested in the field of values is welcome to join the Alliance.  Some of our members are highly active.  Some want to keep informed.  Some are highly knowledgeable.  Some are here to learn.  All are welcome.
For more information, connect to us through our Contact page.
Click UKValuesAlliancePresentation to download our presentation.