RESPONDING TO THE SHIFT IN EDUCATION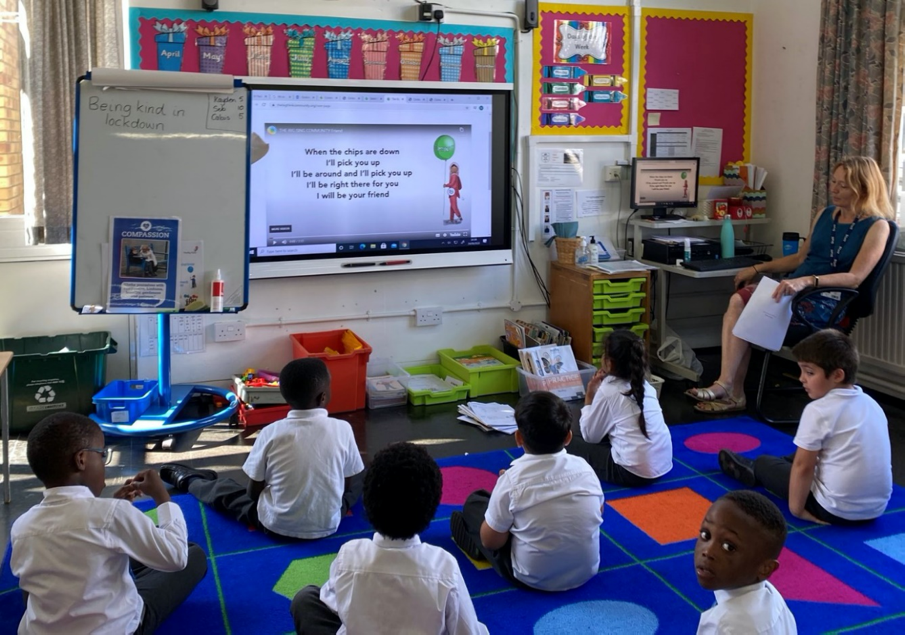 "The fact is, that given the challenges we face, education doesn't need to be reformed — it needs to be transformed." – Sir Ken Robinson (1955-2020)
Today's climate
Significant numbers of teachers have been considering leaving the education sector due to pressures on their mental health, wellbeing, workloads, lack of resources in their schools and personal economic factors.  There are persistently high levels of stress, depression and anxiety, jeopardising the quality and effectiveness of teaching and children's education.  Some school leaders are reluctant to exacerbate matters by adding changes, such as adopting a more holistic, relevant approach to young citizens' education and the associated training.
Children and Adolescent Mental Health Services and social services are stretched and underfunded, leaving teachers and other education staff to pick up some social, emotional and safeguarding challenges that other parts of the public sector lack capacity to address.  Giving teachers and education staff more training to continue to take on such additional responsibilities is not considered to be the answer. Teachers are not therapists or social workers.  It's preferable that others, such as health colleagues, health visitors or speech and language therapists, by addressing the extra support needed to meet detrimental social challenges, keep children and young people engaged, learning and energised, thereby letting teachers teach their curriculum.
The importance of Personal, Social and Emotional Development
As the Human Values Foundation, with a mission of advancing the quality and effectiveness of teaching and learning by promoting education practices with a distinctly human touch, we are conscious of the importance consistent, high quality social and emotional nurturing has on child development – with implications across learning, building and maintaining relationships and early support for mental health and wellbeing.
The 'Shaping Us' campaign, supported by the Princess of Wales, demonstrates how the early years, from birth to five, are critical for making differences to long-term attainment outcomes, especially for socio-economically deprived children.
The Department for Education (DfE) has reported that by the age of five, the attainment levels of children from disadvantaged backgrounds are, on average, four months behind their better off peers and such gaps can double by the end of primary schooling.
Personal, Social and Emotional Development (PSED) embraces Self-awareness, Self-management, Relationship skills, Responsible decision-making and Social awareness.  The range of competencies gradually gained using this focused framework are considered fundamental for learning.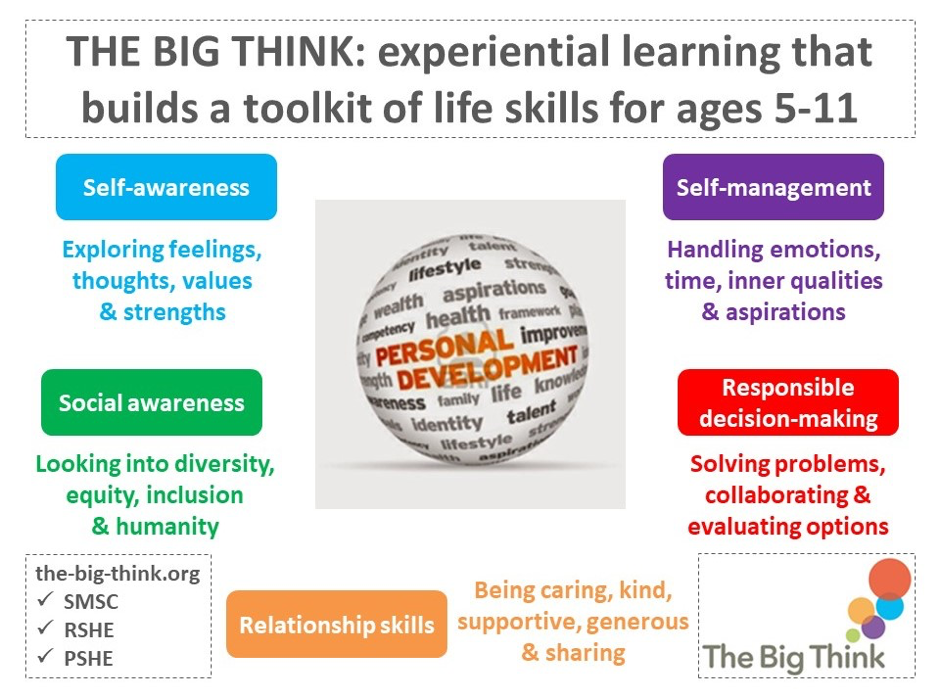 Studies have consistently demonstrated that there is a higher prevalence of PSED needs in socially disadvantaged communities.  Supporting this work is now a priority especially because of the number of 'lockdown children' growing up in the shadow of the pandemic with inadequate PSED skills.
Change requires behaviour adjustments
The Human Values Foundation team is currently creating additional resources and associated training for our programme THE BIG THINK, which was designed to help schools with the rounded development of children aged 5 to 11.  This project is intended to ensure very young children, from 3 to 5 years while in nurseries and Reception classes, progressively gain personal, social and emotional qualities that will form good habits and a solid foundation for making the best possible start to their compulsory schooling from the age of 5.
While developing our new resources, we have been taking account of the current climate and context for leaders in nurseries and schools and those who will be on the front line implementing the intervention.  This Behaviour Change Wheel indicates the breadth of what we have been considering.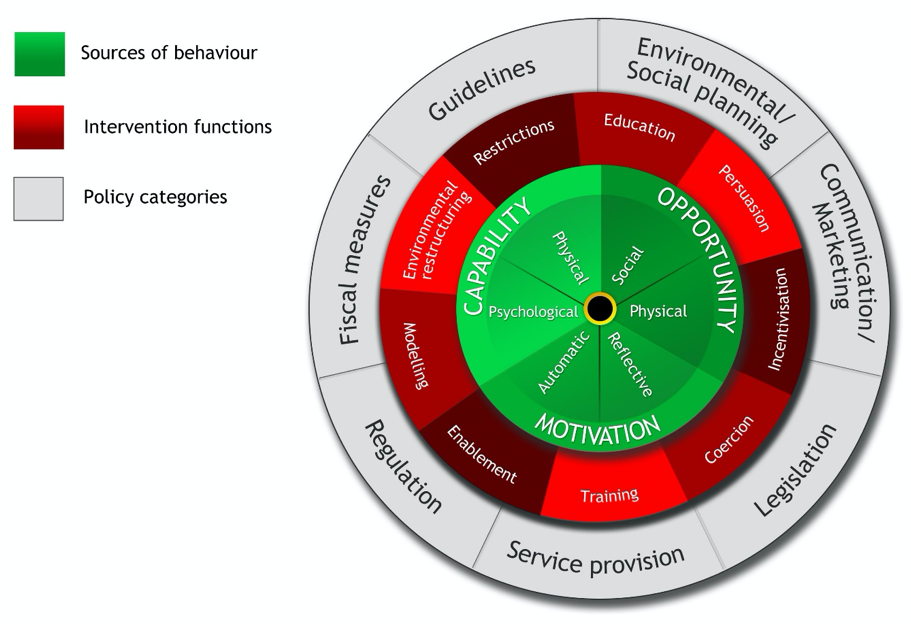 Behaviour Change Wheel
To minimise barriers to progress and achieve optimum outcomes for the children, we have been bearing in mind three aspects that can help to bring about necessary changes in the behaviour of educationists and early years practitioners, as settings leaders and those conducting the learning:
(1)  Capability – including understanding why some changes are important, what is involved, the benefits (and setbacks if not done) and physical capacity to lead the learning
(2)  Opportunities – including having the financial resources needed and regular, timetabled slots for the learning sessions
(3)  Motivation – including a willingness to prioritise PSED, recognising the pros and cons of this initiative and being supported by team reviews and reflection on progress.
We have been mindful of many factors facing the teaching profession and those working with very young children, such as:
Capability aspects: increasing knowledge; cognitive and interpersonal skills; decision processes; behavioural regulation, rehearsing and modelling activities; and physical skills.
Opportunity aspects: social influences; environmental contexts, and resources available.
Motivational aspects: individuals' social and professional roles and identities; beliefs about capabilities (their own and that of the children); degree of optimism; personal and organisational intentions; beliefs about consequences; measures of support and reinforcement, and emotions (personal, children's and their caregivers).
Looking forward
Education Support issued a report in May entitled, 'Teaching: the new reality'.
Their findings paint a picture of an education system – and wider public services – that are struggling to meet the level of need required by children and young people, and therefore limiting their life chances.  This report is a call to action but also offers recommendations for Government and policymakers that can benefit the education system and future generations of children and young people.
As Sinéad Mc Brearty, the Chief Executive of Education Support says, "The job that teachers are currently trained for does not match the daily reality.  If we continue in this way, we will burnout a generation of talented and dedicated staff, and future generations of children and young people will be even worse off for it."
The Human Values Foundation will continue to strive to be, "a beacon of light in the education sector".