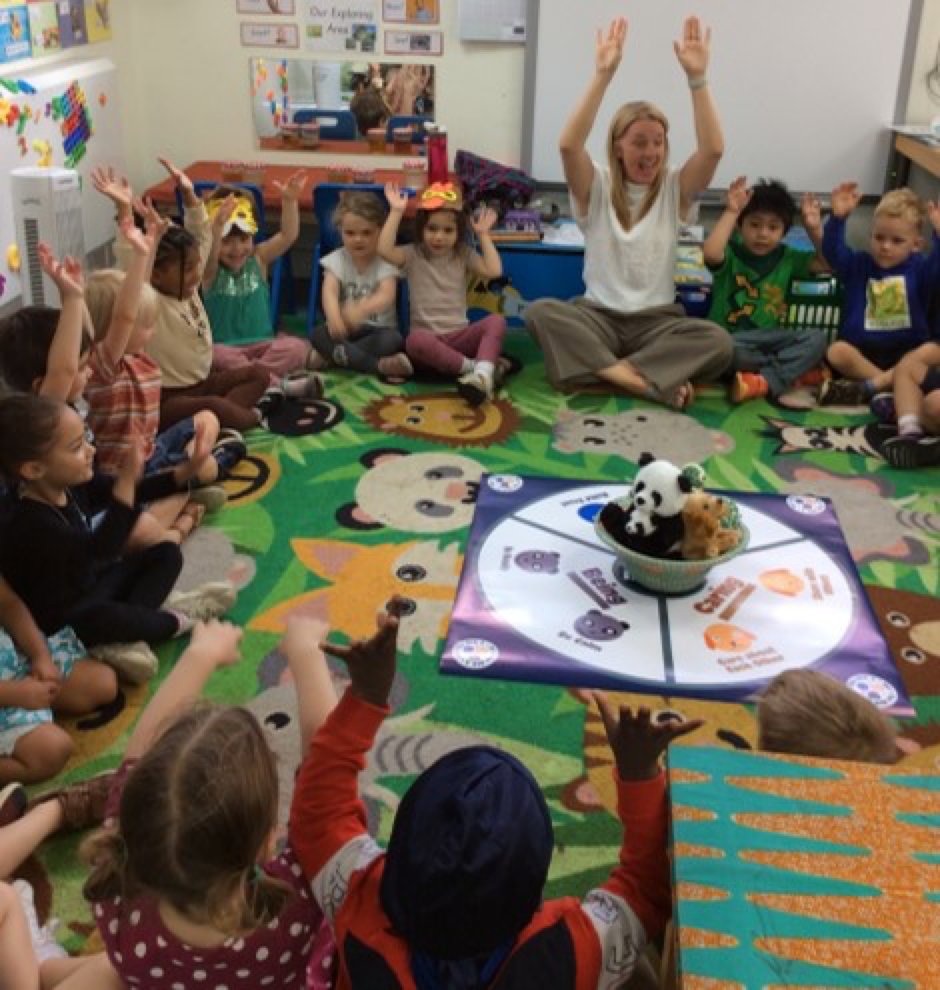 Pre-school children enjoying a session from our latest programme, The Big 3 + ME
"The modern education system is like a wish made in a folk tale gone horribly wrong." – David Sloan Wilson
The purpose of education and what is being delivered must feel like white water rafting for some on the front line just now.  It's tough going for those who are striving so hard to give young citizens an education that enables them to flourish, maximise their individual talents and interests and equip them with attitudes, skills, knowledge and values that will serve their pupils well throughout their school careers and on into their adult lives.
David Sloan Wilson is a stimulating contributor to the sea change in evolutionary thinking.  He has written about it for the general public and, most of all, is helping to "consciously evolve a world that works for all" through his non-profit organisation Prosocial World.
ProSocial Schools, Values Literacy and World Values Day 2023
The Prosocial World movement describes a ProSocial School as 'a catalyst for understanding and improving the conditions for effective learning communities – within their school, throughout their neighbourhoods and in partnership with diverse peers around the world – to equitably meet the needs of all, while rapidly adapting to local and global improvement aims.'
As we look forward to celebrating World Values Day 2023 on October 19th, with the theme of 'values bring us together', here at the Human Values Foundation, we reflect on how we, as an education charity, aim to promote and embed pro-social thinking and behaviour from early on in children's development through our two values-themed programmes:
They help to establish collaborative school cultures and a joined-up, cross-curricular approach to developing the whole child.  'Values literacy' can be considered as 'understanding how to select values so as to think, make choices and behave in purposeful ways that energise the individual or group and others'.
THE BIG THINK gives educationists 60 ready-to-teach, pro-social learning modules for ages 5 to 7 and a further 60 for ages 7 to 11.  They provide a constant flow of experiential learning tasks and opportunities enabling children to practise, in the safety of their classrooms, and incrementally gain key social and emotional competencies.  The programme uses a framework of five core values:
TRUTH – fosters SELF-AWARENESS while exploring feelings, thoughts, values and strengths, empowering participants to live independently, ethically and authentically
PEACE – instils SELF-MANAGEMENT while learning to handle emotions, the inner self and developing a growth mindset and qualities to fulfil ambitions
RESPONSIBILITY – promotes RESPONSIBLE-DECISION MAKING while engaging in teamwork, problem-solving and evaluating options to make well considered choices
LOVE – nurtures RELATIONSHIP SKILLS while learning about being kind, caring and supportive and building communication and life-enhancing inter-personal qualities
COMMUNITY – widens SOCIAL AWARERNESS while looking into diversity, inclusion, different cultures and beliefs and so appreciating unity and the richness of humanity
The COVID-19 crisis was very disruptive for countless children's education and personal growth.  Our work with teachers and nursery staff has highlighted how under-developed milestone social, emotional, language and communication skills are blighting many young people's wellbeing and their capacity to learn.
THE BIG 3 + ME is our new, research-informed programme that is currently being piloted in 12 settings in some less well-off areas of London.  It was created with the support and guidance of the Education Endowment Foundation, which is funding projects that can answer the most important questions as suggested by their existing evidence base and school priorities.  The intention is that this initiative for systematic Personal, Social and Emotional Development (PSED) will improve readiness for statutory learning from the age of five and benefit particularly, socio-economically disadvantaged children.
THE BIG 3 + ME comprises 24 fully resourced units, each with a Silent Sitting track to create a sense of calm, activities using three cuddly toys (a panda, a turtle and a puppy) to develop key personal, social and emotional skills in line with Early Years Foundation Stage (EYFS) goals for the age groups, a focus on three carefully selected emotions (enacted with British Sign Language) and a song uniting the children.  An additional feature for 4-year-olds is a story for the session to encourage them to think more deeply about the lesson content and how to identify and manage their own 'inside weather'.
Our integrated approach, constantly introducing and rehearsing skills so participants' understanding of themselves, others and their wider worlds grows, is designed to build a raft of qualities and competencies, including confidence, resilience and perseverance, thereby enabling 3-year-olds to blossom and thrive and 4-year-olds to find their feet and flourish.