World Values Day 2021
World Values Day 2021 will be on Thursday 21 October 2021. The theme this year will be Values in Action. This theme has turned out to be particularly relevant this year as the world struggles with the effects of the Corona-19 epidemic, calling upon us to dig deep into our values to sustain us and our communities.
During the campaign we will be looking at how the epidemic has changed our attitudes and perhaps also the way we put our values into action. There have been so many inspiring stories of how this has happened around the world. For more information on this year's campaign see https://www.worldvaluesday.com.
World Values Day 2019
The UK Values Alliance remains the driving force behind World Values Day, which is held annually in October.  The breadth and depth of the 2019 World Values Day made it possibly the best one yet, even though its social medai campaign collided with the announcement of the Brexit deal and as a result its impact was somewhat muted compared to the previous year.  There were so many exciting and unexpected new events and activities springing up around the world, and many of the more established events, including important ones for us in the UK, were even better than ever.
London, Ontario saw World Values Day's very first PechaKucha 20×20 evening. This is a very ineresting format where the presenter shows 20 images, each lasting for just 20 seconds – the images advance automatically, and the presenter talks along with their images. It proved highly popular and stimulated lots of energised discussion among a big crowd of attendees.

In India the second World Values Day conference was held at the famous and values-based Ramakrishna Mission in Kolkata, with an august panel of speakers addressing the crowded hall on this year's Values and Wellbeing theme from an Indian perspective.
In Pakistan for the first time there was a Values Challenge workshop by the excellent Punjab Skills Development Fund (PSDF). Elsewhere in Asia there were activities reported in Japan, China, Thailand, Singapore, Indonesia, Malaysia and the Phillipines.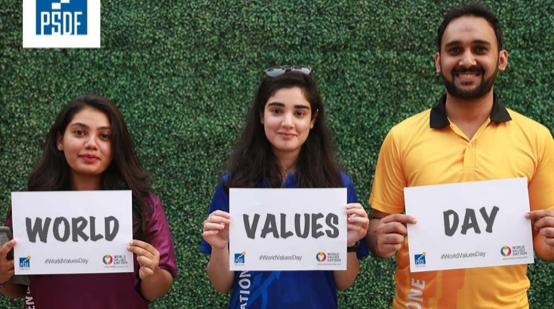 There was another big campaign in Ecuador which included a big international NGO, a hospital, and several corporates. Elsewhere in Latin America we heard good news of activities in Columbia, Argentina, Brazil and Mexico (and no doubt others we haven't yet heard about).
ALVA in Albania also held their second World Values Day conference, bigger and even better than last year, on the theme a valuing women in a society that is still extremely male-dominated.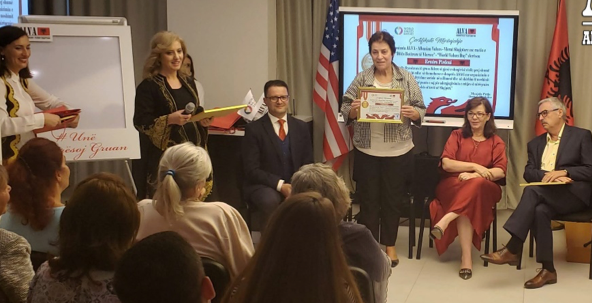 Dr Neil Hawkes spoke at a values event in Latvia, while Values Academy held a conference in Sweden. Turkey was again very active with several big companies involved for the first time with big organisations such as Dogan Holding, Sanofi, Pegasus, Gilead Science and Penti all involved.
Events and activities were also reported elsewhere in Europe, in Lithuania, Finland, Croatia, Denmark, Hungary, Switzerland, Bulgaria, Poland, Holland, Belgium, Germany, Spain, Greece, Portugal and France.
In the Middle East, Egypt, Saudi Arabia, UAE, Lebanon, and the West Bank all took part in various ways.  In Africa schools and other organisations were involved in Nigeria and South Africa, while in Rwanda the Co-operatives International Alliance Conference gave their support.  There were also various activities reported from Australia
Once again, big multinationals supported World Values day in a big way, including this year Bosch, Walters Kluwer, and Volvo. Volvo celebrated on a truly global basis, passing the values torch during the day from Asia to Europe, then from Europe to the Americas – 9 countries in all, and 11 separate locations.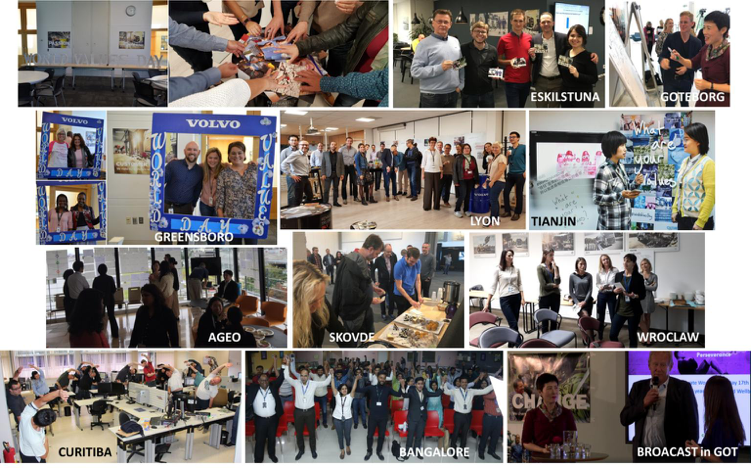 PwC's consulting division has been a WVD participant for several years, but this year another big global consultancy Franklin Covey also joined in.
Meanwhile in the UK, the UK Values Alliance and Peakon held a Values and Wellbeing Breakfast event in London on the morning of World Values Day. Four excellent speakers who each shared a different perspective on the topic helped explore the values/wellbeing connection.
Matthew Shaw, News Editor at the BBC talked about mental health at work and the need for authenticity from the top. Elain Turner from Health Education England showed how, at times of change, it's your culture and values that make the difference. Gavin Andrews from HeartMath reminded everyone that people can be resilient and still unhappy! Michael Dean from Peakon shared some fascinating evidence of the huge organisational and individual benefits that accrue when the organisation's values align with what employees consider important.

The UK Values Alliance hosted another fascinating event just ahead of World Values Day – Values Dialogue: the SDGs – working towards the wellbeing of people and the planet. A large group gathered in London for the last in the series of dialogues which over the previous 9 months had been exploring values and the Sustainable Development Goals using Bohm Dialogue.
This final event was a wrap-up looking at the SDGs as the global agenda for improving the wellbeing of all, including the planet. Many assumptions were challenged, and new thinking emerged from the dialogue and workshop that followed. Whilst barriers still exist, there are many examples of positive things already underway. A general conclusion was how powerful it is to explore, discuss and evaluate our values as a group and the need to make more space to talk together.

For the last four years, the UK Values Alliance has held a joint event with the Brahma Kumaris. This year's event, called Heart of Wellbeing, was every bit as powerful and engaging as in previous years.

It was heart-warming to see considerable engagement in World Values Day from the NHS across the country.  HSC (Health and Social Care) celebrated World Values Day in all their Northern Ireland trusts, and Health Education England, the NHS training body, devoted their monthly meeting to values in honour of World Values Day, taking lots of "I Value"selfies.  They were joined by other trusts in many parts of England, Wales and Scotland.


All over the country people held all kinds of values events or even took to the streets – for instance in Bradford, where the community group Bradford4Everyone talked to random members of the public about their most important values.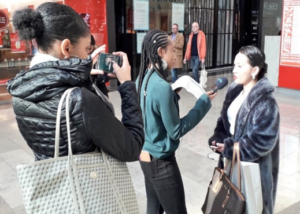 In the educational field, Values-based Education held their annual conference with dozens of values-based schools in attendance.

Global Action Plan launched its exciting Transform our World campaign with values workshops at schools around the country.

The University of Winchester was one of a number of universities around the world that fully engaged with World Values Day.

The Human Values Foundation closed its Stories on Values competition for children on World values Day with a bumper entry from children in Africa, Asia, Europe and India.

One of the most encouraging features of this year's World Values Day was how the theme of Values and Wellbeing stimulated so much stimulating discussion. The World Values Virtual Café online conversation hosted ably as ever by David Gurteen provided a powerful example with around 40  participants from around the globe debating the subject in an action-packed two-hour session.

The theme also generated a wide range of inspiring writing with 24 blogs and commentaries published through the course of the campaign, and a fascinating interview conducted by Alan Williams with the American psychologist Professor Tim Kasser, undoubtedly one of the sharpest and deepest thinkers on values in the world today.

It is well worth spending the time to hear him illuminate significance of how values and wellbeing are so intimately linked.
To see our slideshow on World Values Day 2019 please click here WVD 2019 slides for presentation to UK Values Alliance 22.11.19
World Values Day 2020
World Values Day will fall on Thursday, 15th October 2020. Please put this in your diaries.
Background and history of World Values Day
World Values Day is held every October on the third Thursday of the month. The objective is to raise awareness of values around the world, and to highlight the crucial role of values in the well-being of individuals, families, schools, organisations and communities.
Since the first World Values Day in October 2016, the increase in interest and participation has been phenomenal. In 2017 potential reach across social media rose to more than 60 million people across over 100 countries around the world.
While the UK Values Alliance remains the driving force and main organiser behind the project, around 80 other organisations have joined us to support the Day. These include the RSA (the Royal Society for the encouragement of Arts, Manufactures and Commerce), the international banking network Global Alliance for Banking on Values, the Swedish World Values Initiative and Values Academy, Action for Happiness, CIPD, Co-operatives UK, PriceWaterhouseCoopers (PwC), and a range of organisations and community-based groups in the UK and other countries. On the day itself, these groups and organisations are joined by many hundreds of thousands of engaged individuals across the UK and around the world.
The Values Challenge was launched in 2017 and immediately became one of the most exciting elements of World Values Day. It is a highly focused one-hour session devised jointly by the UK Values Alliance in collaboration with the Forward Institute, the RSA (the Royal Society of Arts) and PriceWaterhouseCoopers (PwC), which individuals, community groups and organisations of every kind can download and run for themselves on or around World Value Day. It is especially aimed at organisations or groups which may have a clear statement of values but where these values are not really being fully practised on a daily basis – which in reality, of course, means practically everywhere.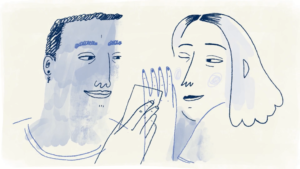 RSA animation for the Values Challenge
Engagement at the individual level is the key to the success of the Values Challenge, as well as for World Values Day as a whole, and social media are crucial way of securing that engagement.
The Alliance and other organisational and individual supporters of the Day have produced many excellent resources to help this part of the campaign, including "Don't Be Like Dick".
Another theme that is very central to World Values Day is values in education, and one of the  most popular activities here is the Human Values Foundation story competition where children write imaginatively and inspiringly about their favourite value.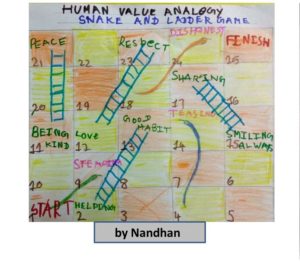 Human Values Foundation's Story Competition
The 2017 World Values Day also saw the first Values-based Education's Schools Conference in London.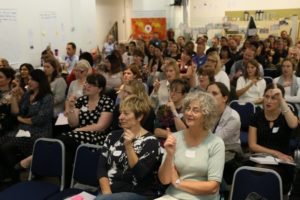 Values-based Education's Schools Conference in London
The events and activities taking place on World Values Day are spread across many countries. The UK Values Alliance has always organised an event in London on World Values Day, and in the last two years this has been done with organisational partners Peakon,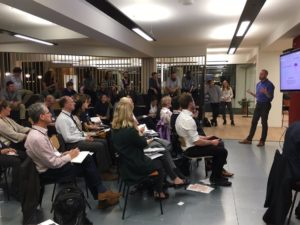 "Closing the Values Gap" London Conference 2017
The Alliance is also involved in jointly organising other events on World Values Day including two separate events with the Brahma Kumaris.
Get involved in the next World Values Day 15th October 2020
World Values Day is largely coordinated by volunteers and there is a wide range of roles you could volunteer for as an individual or an organisation. We need help with:
Social media
Partner/sponsor development
Website maintenance and development
Public relations
Relationship management
Fundraising
Blogging
If you are able to support or help in any way, or have ideas or contacts you would like to share, please contact us at the UK Values Alliance at https://valuesalliance.co.uk/contact/ or the World Values Day team at info@worldvaluesday.com.
Thank you.
Website: http://www.worldvaluesday.com/
Facebook: https://www.facebook.com/ValuesDay/
Twitter: https://twitter.com/ValuesDay