The first World Values Day was held on 20 October 2016 and was highly successful, with the campaign trending on Twitter and its social media footprint reaching many hundreds of thousands of people spread over 65 countries.
While the driving force and main organisers behind the project was the UK Values Alliance, over 60 other organisations joined in to support the Day, and this was crucial to its effectiveness. These included the RSA (the Royal Society for the encouragement of Arts, Manufactures and Commerce), the international banking network Global Alliance for Banking on Values, the Swedish World Values Initiative and Values Academy, Action for Happiness, CIPD, Co-operatives UK, PwC, and many universities, schools, hospitals and community-based organisations in many different countries.
The purpose of World Values Day was to raise awareness of values around the world, and the crucial role of values in the well-being of individuals, families, schools, organisations and communities was highlighted in many different and imaginative ways on the Day and in the lead up to it. One of the highlights of the social media campaign was a humorous two-minute movie Don't be Like Dick made especially for World Values Day featuring a values speaker who fails to live his values; this generated enormous feedback and quickly received thousands of hits.
At an individual level, everyone was challenged to decide their own most important value, to start acting on it that day, to share what they have done if possible on social media, and then to pass on the challenge to others. Many used our "I Value" template to show their chosen value and the action they were taking on "selfies" which were shared on social media.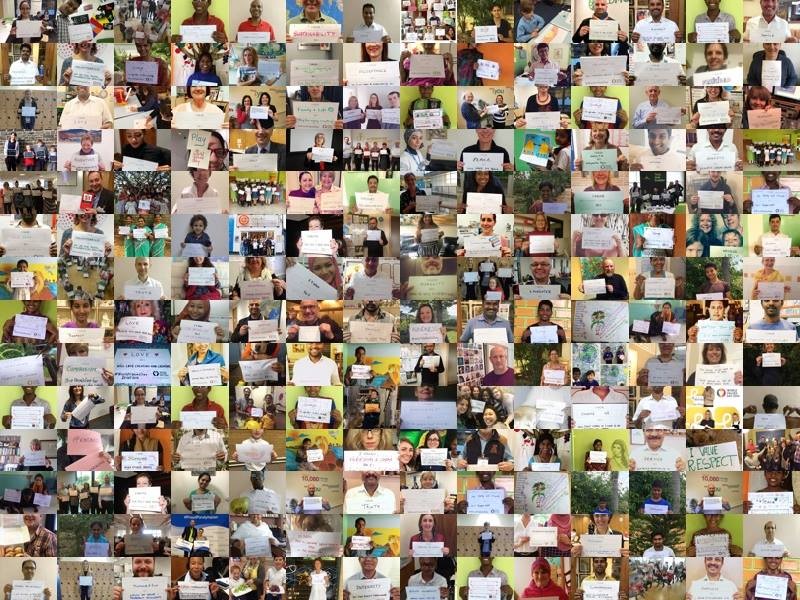 Others followed the instructions given in a quirky animation made for the campaign. Groups and organisations were encouraged to do the same thing on a team basis, and many organisations did this as well as arranging their own internal activities for the Day.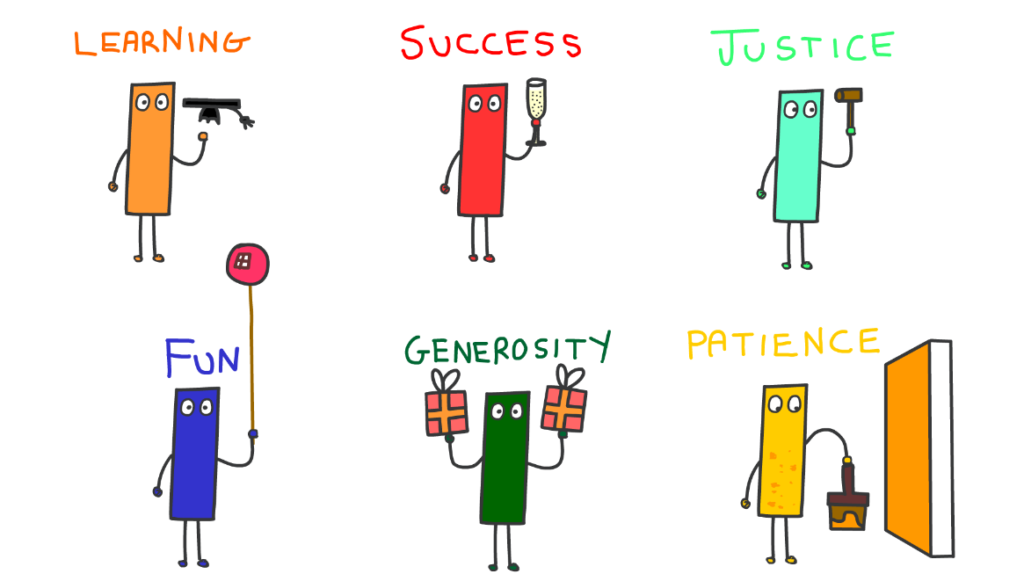 One theme that was widely followed on the Day was values in education, and one of the  most popular activities here was the Human Values Foundation story competition where children wrote about their favourite value.  Children in primary schools of all kinds took part, including a school for street children in Bangladesh, a school in a remote and deprived region of Nigeria, schools in South Africa, the UK, Austria and India. There were many entries from schools run by the United Nations Relief and Works Agency for Palestine Refugees (UNRWA), the UN body responsible for educating refugee children in Syria, Gaza, Lebanon, The West Bank and Jordan. The well-known educationalist Sir Anthony Seldon headed the panel of distinguished judges for the competition.
Another theme was values in banking and business. Discussions, workshops and other activities including an online "Jam" were held to look at values in these sectors in relation to the global financial crisis and the many moral and ethical issues currently facing businesses.
There were a number of values conferences and events linked to the Day in countries around the world including, Canada, India, Sweden and the UK. Lindsay West and colleagues at the UK Values Alliance organised an all-day conference in London where speakers looked at values from a range of different angles – including values in culture, in business, in careers, in personal wellbeing, and a fascinating look at the emerging "values economy" by Alan Williams.   A team of Values Coaches provided free values exploration coaching sessions, throughout the day, to help people understand what truly matters to them.
Feedback received since the Day has been extremely positive and plans are already being worked on by the Alliance and some of its partners to build on this experience and prepare for the next World Values Day to be even bigger and better.
The date for the next World Values Day
is now confirmed as 19th October 2017.
Get involved
There are a number of ways in which you can be involved to suit your own situation (reason for involvement, level of interest, time available, skill set, network etc).
Just do it
You can take action on your own or with other people and how you do this is up to you. Perhaps you have a great idea already and there are many others at http://www.worldvaluesday.com/events-and-activities/  if you are in need of inspiration. Do let us know what you are planning, so we can share with others.
Spread the word
The success of the 2016 World Values Day was greatly assisted by activity on social media. Create your own values-based posts using #worldvaluesday or share posts, articles and tweets from us. Links to our social media feeds are below.
Volunteering
World Values Day is largely coordinated by volunteers and there is a wide range of roles you could volunteer for as an individual or an organisation. We need help with:
Social media
Partner/sponsor development
Website maintenance and development
Public relations
Relationship management
Fundraising
Blogging
If you are able to support or help in any way, or have ideas or contacts you would like to share, please contact us at the UK Values Alliance at https://valuesalliance.co.uk/contact/ or the World Values Day team at info@worldvaluesday.com.
Thank you.
Website: http://www.worldvaluesday.com/
Facebook: https://www.facebook.com/ValuesDay/
Twitter: https://twitter.com/ValuesDay