World Values Day 2018
World Values Day on 18 October 2018 was every bit as exciting and successful as the first two campaigns in 2016 in 2017, and on many measures exceeded them.
The main theme for World Values Day 2018 was values in the community, and how with even one small action we can begin to make a difference. As in those previous years the campaign was supported by many prominent bodies such as the RSA (Royal Society for Arts), CIPD, the UK Values Alliance, PwC and Co-Operatives UK, and dozens of other organisations large and small all over the world.
In terms of raising awareness of values, the 2018 campaign reached some 41 million people in 98 countries through Twitter alone, with activity on the other main social media channels, Facebook, LinkedIn and Instagram, adding considerably to those totals.
In terms of "real life" events and activities, the 2018 campaign was also a great success. The Values Challenge (the downloadable values workshop for groups and organisations that we developed last year with the RSA and the Forward Institute) was downloaded this year by a further 128 organisations in 22 different countries. A first-ever values conference was held in Albania, and in Poland groups of IT workers affirmed the value of diversity by showing their support and fellow-feeling towards newcomers to their country. 
In Turkey, around a thousand World Values Day supporters got together in meetings all over the country, as groups of students, NGO members, employees and other citizens learned about and talked about values by playing "Values Stone" an engaging locally developed values board game.
In Ecuador values workshops were organised for the first time on World Values Day in several towns and cities across the country.  In Malaysia over 60 employees of Mercedes Benz donated their blood – 48 pints in all – on World Values Day.
In Holland 750 colleagues in 28 teams at PwC put their values into action in various ways: one team built bicycles for Africa decorated with "World Values Day/Make a difference for society" stickers. Two teams jointly helped to repaint a meeting place for people just diagnosed with dementia. Other teams completed various different community-help initiatives. PwC offices in many parts of the world also took part by organising their own values-based activities.
It was encouraging to see World Values Day is becoming more and more truly global and not just confined to predominantly English-speaking countries. Activities took place in United States, Canada, Ireland, Malaysia, Singapore, the Philippines, UAE, Australia, New Zealand, India, Nigeria, South Africa, and  the UK , but also in such diverse non-Anglophone countries as Spain, Belgium, Sweden, Switzerland, Thailand, Denmark, Macedonia, Russia, Burma, Turkey, Panama and Ecuador.
Many of these activities took place in schools, and children were again a major feature of the Day. The Human Values Foundation held its third annual Stories on Values competition for children with entries America, Africa, India and the UK. Two entries from India were awarded joint first prize.  Values-based Education held a teachers' conference in Oxfordshire, and individual schools across the UK and around the world found all kinds of different ways to celebrate their values.
There were also some innovative online events which attracted people from several continents and many different countries. David Gurteen ran his second World Values Virtual Café which turned into a stimulating and wide-ranging discussion with participation from around 30 countries. There were also two highly successful online meditations around particular values – a Heart Focused Meditation and a World Compassion Meditation.
Please click here WVD 2018 Campaign Review for Supporters 30 November 2018 pdf to see our slideshow World Values Day 2018 Campaign Review.
For further information please contact info@worldvaluesday.com
Like World Values Day on Facebook: www.facebook.com/ValuesDay.
Follow World Values day on Twitter www.twitter.com/ValuesDay, Instagram www.instagram.com/valuesday/, https://www.linkedin.com/company/worldvaluesday/ and YouTube http://bit.ly/2uANxYp.
Where appropriate use the hashtag #WorldValuesDay.
************
Background and history of World Values Day
World Values Day is held every October on the third Thursday of the month. The objective is to raise awareness of values around the world, and to highlight the crucial role of values in the well-being of individuals, families, schools, organisations and communities.
Since the first World Values Day in October 2016 the increase in interest and participation has been phenomenal. In 2017 potential reach across social media rose to more than 60 million people across over 100 countries around the world.
While the UK Values Alliance remains the driving force and main organiser behind the project, around 80 other organisations have joined us to support the Day. These include the RSA (the Royal Society for the encouragement of Arts, Manufactures and Commerce), the international banking network Global Alliance for Banking on Values, the Swedish World Values Initiative and Values Academy, Action for Happiness, CIPD, Co-operatives UK, PriceWaterhouseCoopers (PwC), and a range of organisations and community-based groups in the UK and other countries.
On the Day itself, these groups and organisations are joined by many hundreds of thousands of engaged individuals across the UK and around the world.
The Values Challenge was launched in 2017 and immediately became one of the most exciting elements of World Values Day. It is a highly focused one-hour session devised jointly by the UK Values Alliance in collaboration with the Forward Institute, the RSA (the Royal Society of Arts) and PriceWaterhouseCoopers (PwC), which individuals, community groups and organisations of every kind can download and run for themselves on or around World Value Day. It is especially aimed at organisations or groups which may have a clear statement of values but where these values are not really being fully practised on a daily basis – which in reality, of course, means practically everywhere.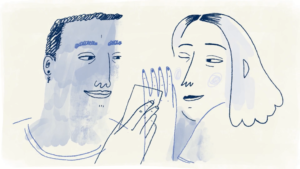 RSA animation for the Values Challenge
Engagement at the individual level is the key to the success of the Values Challenge, as well as for World Values Day as a whole, and social media are crucial way of securing that engagement. The Alliance and other organisational and individual supporters of the Day have produced many excellent resources to help this part of the campaign.
Our partners the RSA generously produced one of their superb animations to a voiceover by Simon Sinek especially for the inaugural Values Challenge.  The Alliance itself produced another video which also proved highly popular  –  a humorous two-minute movie Don't be Like Dick made especially for World Values Day featuring a values speaker who fails to live his values.
Another theme that is very central to World Values Day is values in education, and one of the  most popular activities here is the Human Values Foundation story competition where children write imaginatively and inspiringly about their favourite value.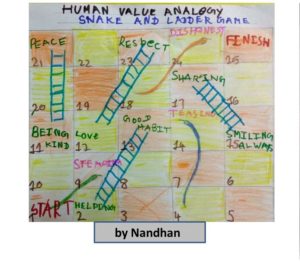 Human Values Foundation's Story Competition
The 2017 World Values Day also saw the first Values-based Education's Schools Conference in London.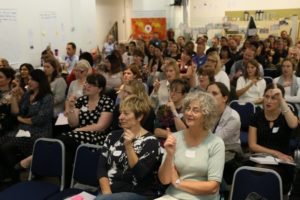 Values-based Education's Schools Conference in London
The events and activities taking place on World Values Day are spread across many countries. The UK Values Alliance has always organised an event in London on World values Day, and in the last two years this has been done with organisational partners Peakon, Crystal Interactive and the Employee Engagement Alliance.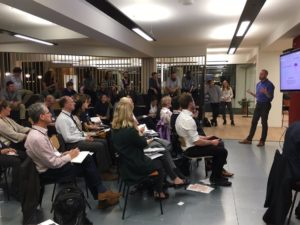 "Closing the Values Gap" London Conference 2017
The Alliance is also involved in jointly organising other events on World Values Day including two separate events with the Brahma Kumaris.
Get involved in the next World Values Day 17th October 2019
World Values Day is largely coordinated by volunteers and there is a wide range of roles you could volunteer for as an individual or an organisation. We need help with:
Social media
Partner/sponsor development
Website maintenance and development
Public relations
Relationship management
Fundraising
Blogging
If you are able to support or help in any way, or have ideas or contacts you would like to share, please contact us at the UK Values Alliance at https://valuesalliance.co.uk/contact/ or the World Values Day team at info@worldvaluesday.com.
Thank you.
Website: http://www.worldvaluesday.com/
Facebook: https://www.facebook.com/ValuesDay/
Twitter: https://twitter.com/ValuesDay