World Values Day was established by the UK Values Alliance as an annual campaign in 2016. While the UK Values Alliance remains the main driver and organiser of World Values Day, it does so in collaboration with over 100 other like-minded organisations who help and support the campaign around the world.
World Values Day 2022
The next World Values Day is 20th October 2022. For more information on the campaign see https://www.worldvaluesday.com.
World Values Day 2021
The theme for the last campaign was Reconnecting. We are all living through a time of enormous uncertainty and disruption. This means we need to deepen our understanding of values and how they connect us with our sense of self, with others, and with the wider world. More text and pictures describing this highly successful campaign will be posted here shortly.
World Values Day 2020
The UK Values Alliance is the main driving force behind World Values Day and we are thrilled to report that 2020 was a record year for World Values Day. On social media it reached 75 million across 67 countries on Twitter alone (15 million more than 2019), and a strong showing too from other channels like Facebook, Instagram, LinkedIn.
The Values Challenge, a ready-made workshop developed in 2017 by the UK Values Alliance in partnership with the RSA, PWC and the Forward Institute which can be used by all kinds of organisations to refresh their values, reached its fourth year. Another 111 schools, organisations and community groups signed up for the Challenge from all over the world including Switzerland, Estonia, Canada, Germany, Finland, UK, USA, UAE, Australia, New Zealand, Spain, India, Poland, sday.com.Romania, Greece, Nigeria, Tanzania, Sweden, Netherlands, Ireland, Lichtenstein, Kuwait and Singapore.
The Valuesthon. Prompted by the Covid epidemic most events and activities moved online during the campaign and many of these were gathered together on World Values Day itself in a new "Valuesthon" programme of back-to-back online events which rolled around the world's time zones. This proved a great success: the 32 separate events attracted an estimated 1000+ attendees with many more viewing recordings later.
The UK Values Alliance continued to link with other organisations to develop events and activities for the campaign. Once again we partnered with the Brahma Kumaris to present two highly successful events as part of the Valuesthon, including The Hero Within, a reflective workshop exploring our inner experience of values.
We also partnered again with David Gurteen in our fifth joint World Values Day Knowledge Café.

Among the other organisations participating in the Valuesthon were the Sophrology Academy, now run by Alliance member Liz Murphy, which presented several events hosted in different countries.

The annual international conference of long-time WVD supporters Values-based Education this year also became part of the Valuesthon, and indeed took the Valuesthon well into a second day, with Dr Neil Hawkes among the speakers.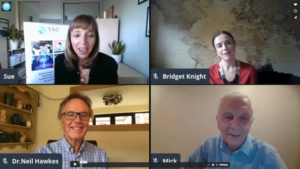 Values-Based Education International Conference
Other online events.  There were many more activities happening online that were not part of the Valuesthon. Prominent among these was an absorbing interview by Alliance member Jay Skinner with another of our founder members, Richard Barrett.

One of our organisational members, Living Values, took a values-laden video journey around the world, while the popular Asia Women Festival took time out to celebrate World Values Day.

Organisational support. Many big international organisations continued to show their support for World Values Day by taking part in activities which helped them think about their values and put them into action. These included PWC, Volvo, Korn Ferry, KPMG, Wolters Kluwer and IBM. Hundreds if not thousands of universities, schools, hospitals, care homes, NGOs, local governments, and all kinds of commercial businesses also took part during the day.
As ever it was good to see new organisations from different countries around the world take part, such as the Saudi Darrajati Group, who organised a 60 kms bike ride for their staff to celebrate the day.
Many organisations who took part were a surprise to us. For instance, we didn't know about the involvement of the Papua New Guinea Olympics Committee until we saw their posts on social media.
Nor did we know about the engagement of the Native American Connection in Arizona, USA until they posted their support.
It was good to see so many old friends supporting World Values Day, including the amazing Joy Village in Nigeria which supplies free water, schooling, healthcare and other free services to its local poverty-stricken area of southern Nigeria, with their ethos that is all about living values to the full.

The Values 20 initiative. World Values Day was also supported by a fascinating new initiative, the Values 20 (V20) group, which was formed during 2020 as a new group to engage with the annual intergovernmental G20 meetings of the world's leading 20 national leaders. V20 is a global community of values experts and practitioners which will support these policymakers in identifying people-centred public policy solutions based on values. It hosted a Tweetup on World Values Day and issued a communique in support of the WVD campaign, before engaging with the G20 sessions in this year's host country, Saudia Arabia.

Children and Young People. The active participation of children and young people has always been at the heart of World Values Day. Children's homes, schools, colleges and universities around the world continue to show strong support (like Prema Dharma Family Home in India and the Azm-e-Nau Islamic and Modern Education System in Pakistan, and Kuwait International School)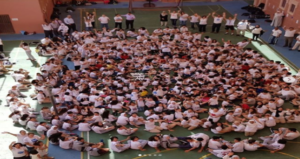 In the UK there appears to be a big increase in the number of schools getting involved, including these two from London – St Paul's and All Hallows in Tottenham and Thomas's Clapham, and many more across the country.
Healthcare sector.  Care homes, hospices, NHS Trusts, mental health units and other parts of the healthcare sector have been a strong element of World Values Day from the start. Every year we see photos, posts, and videos from all kinds of healthcare organisations, particularly in the UK.  This year these included this powerful video from staff at Hywel Dda Health Board Wales, talking about their values.

While Manchester Mind carefully gathered shared stories about putting values into action.

We would love to see even more healthcare organisations taking part in World Values Day in future years, not just in the UK but from all around the world.  Values are at the heart of successful healthcare, but then they are at the heart of everything.
To see more information about World Values Day 2020 please click here.
Background and History of World Values Day
World Values Day is held every October on the third Thursday of the month. The objective is to raise awareness of values around the world, and to highlight the crucial role of values in the well-being of individuals, families, schools, organisations and communities.
Since the first World Values Day in October 2016, the increase in interest and participation has been phenomenal. In 2017 potential reach across social media rose to more than 60 million people across over 100 countries around the world.
While the UK Values Alliance remains the driving force and main organiser behind the project, around 80 other organisations have joined us to support the Day. These include the RSA (the Royal Society for the encouragement of Arts, Manufactures and Commerce), the international banking network Global Alliance for Banking on Values, the Swedish World Values Initiative and Values Academy, Action for Happiness, CIPD, Co-operatives UK, PriceWaterhouseCoopers (PwC), and a range of organisations and community-based groups in the UK and other countries. On the day itself, these groups and organisations are joined by many hundreds of thousands of engaged individuals across the UK and around the world.
The Values Challenge was launched in 2017 and immediately became one of the most exciting elements of World Values Day. It is a highly focused one-hour session devised jointly by the UK Values Alliance in collaboration with the Forward Institute, the RSA (the Royal Society of Arts) and PriceWaterhouseCoopers (PwC), which individuals, community groups and organisations of every kind can download and run for themselves on or around World Value Day. It is especially aimed at organisations or groups which may have a clear statement of values but where these values are not really being fully practised on a daily basis – which in reality, of course, means practically everywhere.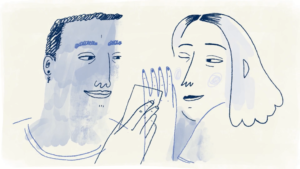 RSA animation for the Values Challenge
Engagement at the individual level is the key to the success of the Values Challenge, as well as for World Values Day as a whole, and social media are crucial way of securing that engagement.
The Alliance and other organisational and individual supporters of the Day have produced many excellent resources to help this part of the campaign, including "Don't Be Like Dick".
Another theme that is very central to World Values Day is values in education, and one of the most popular activities here is the Human Values Foundation story competition where children write imaginatively and inspiringly about their favourite value.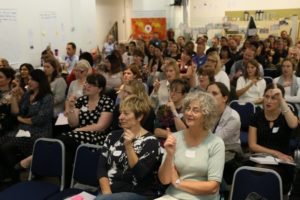 Values-based Education's Schools Conference in London
The events and activities taking place on World Values Day are spread across many countries.
Get involved in the next World Values Day 21st October 2021
World Values Day is largely coordinated by volunteers and there is a wide range of roles you could volunteer for as an individual or an organisation. We need help with:
Social media
Partner/sponsor development
Website maintenance and development
Public relations
Relationship management
Fundraising
Blogging
If you are able to support or help in any way, or have ideas or contacts you would like to share, please contact us at the UK Values Alliance at https://valuesalliance.co.uk/contact/ or the World Values Day team at info@worldvaluesday.com.
For other ideas on how to get involved either as an individual or as an organisation please look here.
Website: http://www.worldvaluesday.com/
Facebook: https://www.facebook.com/ValuesDay/
Twitter: https://twitter.com/ValuesDay