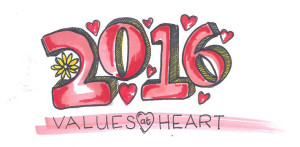 Now in its fifth year Values at Heart is encouraging people to discover their most powerful and energising values for free.
As Jackie Le Fèvre, Director of Magma Effect, explains
"Happiness is something that we know when we feel it but we don't necessarily know why. Not knowing why we feel happy can make that feeling tricky to recreate. Our top priority values connect us with the things that make our hearts sing. When we know our values we can spot more ways to live them and be happy."
One of the world's leading online tools, the AVI, is the powerhouse behind the special Values at Heart profile that will be available to all the people that log in using the special Valentine's code. From Monday 1st to Sunday 14th February there is no charge for access to this report, which normally costs £25, simply follow the link from www.magmaeffect.com
To translate your core values into practical day to day behaviour Magma Effect is partnering with my31Practices to offer this web application which will help you bring these values to life every day. See how it works here www.my31Practices.com .
Alan Williams, Director of SERVICEBRAND GLOBAL says
"At one level my31Practices is very simple, focussing on just one behaviour every day, but over time it helps people live in line with their core values."
Research shows that people who are consciously connected with their priority values are more resilient under stress, and have an increased sense of meaning in their lives. The AVI approach is a great way to strip out the background noise and be able to hear your heart.
Do you know what your heart is saying?
Jackie Le Fevre     Magma Effect
jackie@magmaeffect.com           0788 6922438
Alan Williams       SERVICEBRAND GLOBAL
alan@servicebrandglobal.com   07875 200666