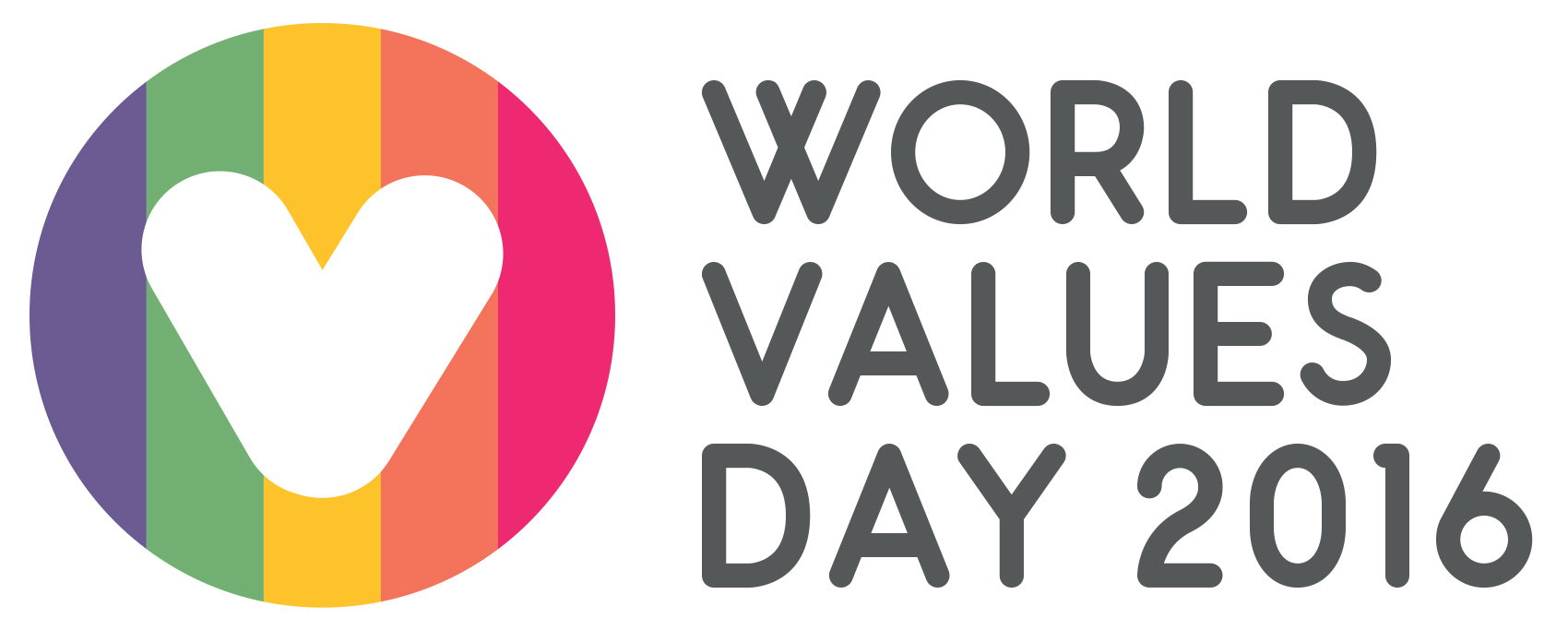 Introduction
The UK Values Alliance has been working hard over the last few months to assemble a coalition of like-minded organisations in a global collaboration to support the first World Values Day, which will be held on 20th October 2016.
The objective of the Day will be to raise and deepen the awareness and practice of values all around the world. We hope that by joining together to speak up for values the many values-driven organisations around the world will be able to attract much more attention than would be possible for any of us individually.
The intention is to involve all participants around the world in a simple, common, values-driven activity, illustrating the key role of values in making personal choices that lead to happier lives and healthier societies.
Other activities and events will take place on and around the Day to profile all kinds of values issues and activities e.g. values in education, in financial sector, at work, in housing, sport, the environment, politics, the media, the arts and so on. Individuals and organisations are encouraged to take part in the core activity but also to come up with their own initiatives.
Collaboration
The response has been fantastic from organisations of all shapes and sizes, both in the UK and overseas. As part of our strategic collaboration with them, the RSA (the Royal Society for the Encouragement of Arts, Manufactures and Commerce) will be supporting the Day, as will prominent international organisations such as Action for Happiness, Initiatives of Change, and the global young leaders at AIESEC. Among the many other supportive national and international organisations which have already come forward are Global Values Alliance, Barrett Values Centre, Minessence International Co-operative, Trust Across America, Good Works, Human Values Foundation, and Values-based Education. There is a lot of interest from many other organisations and individuals in all walks of life in the UK and around the world including universities, schools, care providers, social housing providers and financial institutions, and we are keen to engage a lot more.
Communication
A vital element in holding a successful World Values Day is the use of technology through social media and other means of communication. We are fortunate that the online events organiser, Crystal Interactive, has volunteered to run some highly interactive "online jam sessions" for us on the Day, and we hope other organisations will be able to help us with these and with social media more generally.
How you can take part
Our own members and supporters as well as those of all the other participating organisations will have the chance to join energetically in the activities not only on 20th October but also in the weeks leading up to it.
Information about the nature and timing of these activities is available on the dedicated website www.worldvaluesday.com,  we are always open to fresh, exciting ideas from anywhere and everyone.
Please contact us if you have a great idea, a good introduction to a possible partner, or would like to help or take part in this project yourself in whatever way, this year or next.
Contact details: contact@valuesalliance.co.uk