"This book is a tangible expression of my value, "making a difference'.  I left my career as a corporate lawyer behind in 2009 with the dream of making a significant contribution to the creation of genuinely effective ethical cultures in companies as a way to reduce corruption in the world.  Working with individual organisations has been rewarding, however I realised that I would have to reach a wider audience in order to make a difference, and that the attitudes of regulators and policy makers would have to change to achieve this goal.
Synchronicity brought my career and aspirations together with those of my friend Professor Chris Hodges (himself a former City lawyer, and now Professor of Justice Systems at Oxford) and this book is the result.  Chris brings the regulatory and policy making expertise, together with academic rigour and discipline and together with my practical ethics & compliance and corporate experience we have produced what we hope will be a game-changer in this area.
Please feel free to let me have any feedback and if you know of any opportunities for me/us to speak and present the ideas contained in the book, we would be delighted."
Ruth Steinholtz
OUT NOW!
SPECIAL OFFER – 20% DISCOUNT!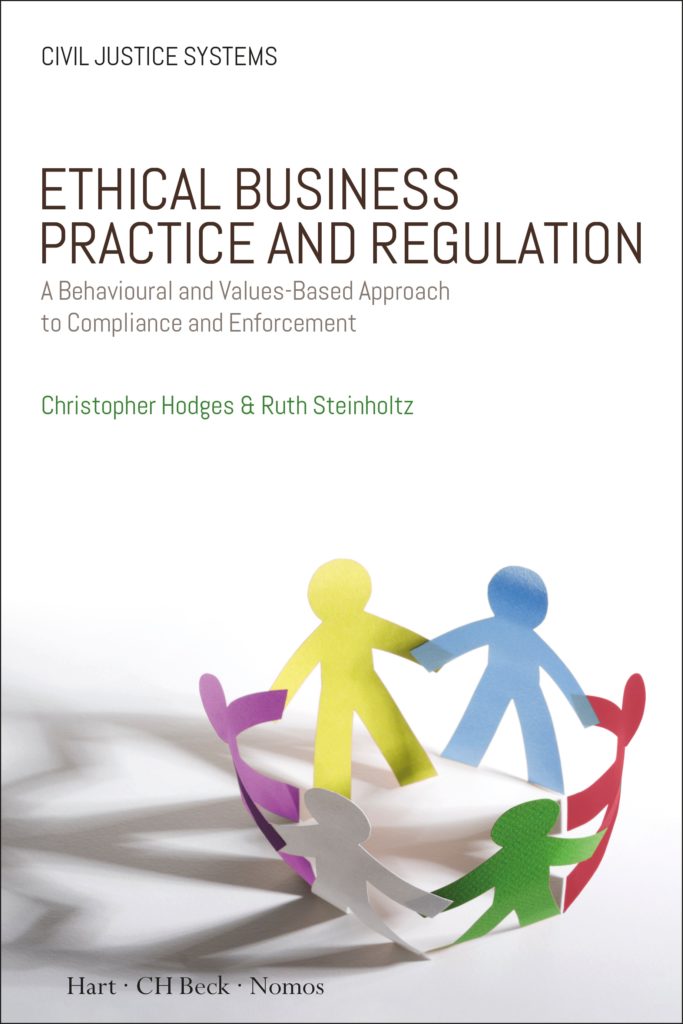 Ethical Business Practice and Regulation
A Behavioural and Values-Based Approach to Compliance and Enforcement
Christopher Hodges and Ruth Steinholtz
This book explains the concepts of Ethical Business Practice (EBP) and Ethical Business Regulation (EBR), a new paradigm in compliance and enforcement based on behavioural science and ethics. EBR provides the basis for an effective relationship between a business and its regulators, resulting in better outcomes for both. EBR is attracting extensive attention from regulators and businesses around the world. The UK Government's 2017 Regulatory Futures Review draws on EBR as the foundation for its policy of 'regulatory self-assurance'. EBR draws on findings from behavioural science, responsive regulation, safety and business and integrity management to create a practical and holistic approach. Examples include the open culture that is essential for civil aviation safety, the Primary Authority agreements between regulators and national businesses, and feedback mechanisms provided by market vigilance systems and sectoral consumer ombudsmen. This book provides an essential blueprint for sustainable business and effective future regulation.
Christopher Hodges is Professor of Justice Systems and Supernumerary Fellow of Wolfson College, Oxford; and Head of the Swiss Re/CMS Research Programme on Civil Justice Systems at the Centre for Socio-Legal Studies, Oxford.
Ruth Steinholtz is an international values-based business ethics advisor; Founder and Managing Partner of Areté Work LLP; and former General Counsel, Group Security Coordinator and Head of Ethics of Borealis AG.
PRAISE FOR THE BOOK
"Finally, a new paradigm in compliance and regulation that gets to the heart of what truly matters–values-based and ethically-based leadership. In the 21st century who you are, how you behave, and what you stand for are destined to become the new frontiers of competitive advantage. Success in the future will be all about the culture the leaders create." Richard Barrett, Chairman of the Barrett Values Centre and Founder of the Academy for the Advancement of Human Values
"This book makes an insightful case for business to benefit from being values-driven rather than focussed on short-term profits, and for promoting an open, just culture rather than a blame culture. It also convincingly contends that while business regulators must take closing businesses and deterrence seriously, deterrence can also have counterproductive effects. This is a book rich in lessons about how we can all learn how to build more ethical corporate cultures." John Braithwaite, Australian National University
"In this long overdue, much needed and wonderfully practical book, Christopher Hodges and Ruth Steinholtz have provided a guide for both business practitioners and regulators that lays out the rationale, a mindset and a roadmap for a more realistic, more honest and ultimately more productive working relationship between these two powerful societal players. The book remains remarkably readable and engaging while providing a solid foundation of insights—from both science and real world experience—into the factors that encourage as well as discourage ethical human behavior. The central argument at the book's heart is the simple yet powerful idea that deterrence and adversarialism have not and will not serve to build the trust-based relationships between the public and the private sectors upon which a productive and mutually beneficial functioning of our economy relies—and that cooperation and a mutual learning orientation will. Although their book targets regulators and business practitioners, its lessons provide a critical key for beginning to address the wide-ranging challenges at the heart of our world's current larger spiral of distrust, fear, resentment and retaliation. Hodges and Steinholtz have done us all a great service." Mary C. Gentile PhD, Author of Giving Voice To Values: How To Speak Your Mind When You Know What's Right and Professor of Practice, University of Virginia Darden School of Business
"After every institutional failure, the cry goes up for more ethical behaviour from more ethical individuals. But where are such people to be found? How would you identify them? Where do they come from—and what militates against them? This book sets itself the ambitious goal of analysing what ethical businesses look like and how they behave. It doesn't dodge the hard questions or promise simplistic solutions but dares to look fearlessly at the most important questions of our age." Margaret Heffernan, Author of Wilful Blindness. Why we ignore the obvious at our peril
"Hodges and Steinholtz have done a great service to business. Ethical Business Practice and Regulation is a must-read for all leaders eager to drive sustainable social and economic growth by infusing their organisation with value and integrity. The authors' inspirational vision of a better business world – indeed a better society – can be realised with this practical guide." Roswitha Reisinger, General Counsel Europe, Otsuka Pharmaceutical Europe Ltd
"There is a clear and present danger that the economic regulation of utilities becomes ever more invasive and prescriptive. Such a path is undesirable, limiting the discretion and authority of senior management and resulting in a much reduced focus on the needs of the customer…Chris Hodges' Ethical Business Regulation (EBR) concept has provided the Scottish water industry an opportunity to break out of this pattern of ever decreasing circles. EBR has offered an unique opportunity to explore, constructively and collaboratively, the thorniest of regulatory issues and to do the right thing for customers, our environment and our society." Alan Sutherland, CEO, Water Industry Commission for Scotland
"Regulation is fundamentally about how people in organisations actually behave. This book pulls together the evidence on "what works" in getting the right results. There is a wealth of material here for smart regulators who are pursuing effectiveness through actual outcomes, not compliance with rules for its own sake." Richard Thomas CBE, Information Commissioner (2002-9), Committee on Standards in Public Life (2012-17)
"In a time where ethical behaviour is increasingly under attack by various governments around the world, Hodges and Steinholz provide a very timely guide to the importance of the culture of compliance in organizations. Hodges and Steinholz consider the essence of ethical and compliant behaviour asking, "Why do people observe rules? Why do people break them"? The writers take the reader through a well-organized and compelling journey from biological and physiological influences through to the need for governing agencies and businesses to interact on a relationship of trust. This is critically important because, as the writers clearly articulate in chapter 7, people will not come forward to report ethical breaches if they feel they will be putting themselves at undue personal risk. I truly believe Ethical Business Practice and Regulation: A Behavioural and Based Values Based Approach to Compliance and Enforcement is not only essential reading for ethics and compliance professionals, but rather everyone who is engaged in business on some level. Read it and encourage your colleagues to read it too!" Thomas Topolski, CCEP-!, Executive Vice President, Turner and Townsend
ORDER DETAILS
December 2017 | 9781509916368 | 352pp | Paperback | RSP: £31.99
20% Discount Price: £25.59
Order online at www.hartpublishing.co.uk – use discount code CV7 at the checkout to get 20% off!