Women in Banking & Finance (WIBF) were delighted to welcome Alan Williams to the first Personal Excellence Programme event of 2018. Kindly hosted by RBS in the heart of the City we were delighted to welcome over 60 women (and a couple of men!) to hear Alan speak about personal values and the benefits of leading a life aligned to your values?"
Alan Williams, co-author of the critically acclaimed book, My 31 Practices, provided an opportunity for the members to get hands on, practical insight into how to translate personal values into no nonsense, realistic behaviour every day.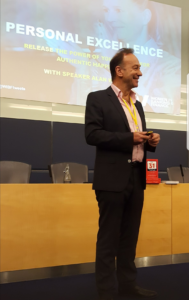 Alan coaches' leaders in the service sector organisations internationally and in the UK to deliver values driven services for sustained performance. He is not only an author but also a founder Faculty member of the Culture University, a steering group member of the UK Values Alliance, as well as the founder of the Global Values Alliance.
The audience were captivated by various exercises to explore and discover their own values, understand how important certain values were to them, how varying circumstances can impact the importance placed on certain values, and, more importantly, how to become crystal clear in applying this in their professional and personal lives, and ultimately live happier lifestyles.
By the end of the workshop, the audience were tapping and swaying to popular songs by famous artists and concluded the evening networking over drinks and canapés, with many members remarking upon the informative and extremely useful nature of the workshop.
Women in Banking & Finance, founded in 1980, are a forward-looking membership organisation for finance and banking professionals looking to achieve their full career potential, helping to bolster female contribution to the industry along the way. Our events address the needs and aspirations of our corporate and individual members to develop, showcase and retain female talent and contribution.
WIBF celebrates our members. Our annual awards ceremony is the most sought-after event of the year, offering our members and supporters the chance to honour achievement. This year is the 21st year of the Annual Awards for Achievement and we are currently receiving nominations for the five categories of awards. The winners will be announced at our celebration on the 15th June at the Hilton, Park Lane in London.
If you would like to find out more about WIBF, our events, joining us and much more please visit the website at www.wibf.org.uk.