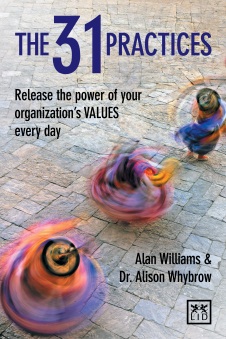 'Release the power of your organization's values every day'
Written by Alan Williams and Dr. Alison Whybrow
Published by LID Publishing, October 2013.
Available in hardcover and priced at £16.99.
It has been exciting to have contributed to the early journey of The UK Values Alliance and the development of the strategy to achieve our purpose within organizations.
In alignment with our values of compassion, learning, collaboration, empowerment and making a difference, the UK Values Alliance will use a selection of values-based products and resources to:
help organizations form a consistent, desirable values-based culture that better engages customers, employees, suppliers, investors and the community.
work with individuals, leaders and their organizations to help them be more aware of and live, rather than just name, their values.
help people align behaviours with values and understand the cost of misalignment
encourage appropriate and consistent behaviours from leadership, management and employees in support of the organization's values and purpose to deliver mutual long term effectiveness and success.
This fits very well with the '31Practices' tool which I have been working with over the last ten years to develop a practical tool to help organizations bring to life their stated values through the day to day behaviour of their employees.  And now we have turned that story into a book, 'The 31 Practices'.
In our super-connected world, organizations and their brands and reputations are shaped to a far greater extent by the personal experience of their employees, and customers. 'The 31 Practices' sets out to find out what values really mean to employers, how they communicate these and how they consistently express their cultural identity, internally and externally, to their people and the wider world. The book highlights that values cannot be dictated from the top-down, or be branded an 'HR initiative'; the process has to involve people from every level, ensuring the values become more than a few words agreed in a boardroom. Values must be led by people, so they truly believe in what they are following and to support this idea.
'The 31 Practices' clearly shows how an organization's values and brand can be translated into daily practices and to the behaviour of their employees, mapping out the process from the boardroom to the front line customer experience. The book explains how companies can improve customer service and enhance brand loyalty through their employees, showcasing tried and tested worldwide approaches. It includes new thinking on brand identity, employee engagement and customer service based on principles from psychology, philosophy and neuroscience.
The authors Alan Williams, Managing Director of SERVICEBRAND GLOBAL, a consultancy that specialises in inspiring service for competitive advantage and Dr. Alison Whybrow, an award-winning Chartered and Registered Psychologist, show how the '31Practices' method has been successfully adopted by large and small organizations around the world; it has been responsible for significantly enhancing customer and employee satisfaction and loyalty. 'The 31 Practices' has received testimonials from prominent, international business leaders:
KK Verma, Harvard Business Review Advisory Board, says, "'The 31 Practices' is a great book for understanding values in a changing organizational environment – due to advances in technology and the way we communicate (social media). The ideas explained depict the importance of bringing to life the values of organizations through the behaviour of the people representing them. I enjoyed reading this great work and hope that companies all over the world will consider this book as a compulsory read for their employees".
Nic Marks, Founding Director, Happiness Works says,'"'The 31 Practices' is a comprehensive and insightful overview of behavioural and psychological research and its relevance to the modern workplace.  By translating complex ideas into practical actionable steps, this book can help managers make a genuine positive difference in their organizations".
Andy Palmer, Executive Vice President, Nissan Motor Company Ltd & Chairman of Infiniti Motor Company Ltd says, "'The 31 Practices' is an essential read for everyone in business.   With experience, I know '31Practices' works, since we utilised it for INFINITI, our Premium Car range, in China. It provided a framework which helped us to translate organisational values into a set of very practical day to day behaviours and then bring these behaviours to life in a sustained way".
Horst Schulze, Chairman/CEO, Capella Hotel Group, ex-President / COO of Ritz-Carlton says,'"'The 31Practices' approach is simple, clear, at times daring and unconventional to the traditional thinker of today. But this will be the norm and essential in the future. Good job…. I really enjoyed it".
Matthew Taylor, CEO, Royal Society of Arts says, "'The 31Practices' is an insightful, practical and timely resource for organisations trying to solve the conundrum of being competitive, creative and ethical in complex and challenging times".
Charles Fowler, Chair, Human Values Foundation says, "What really excites me about 'The 31Practices' is the effectiveness in involving and empowering everyone from top to bottom… if the values are owned and exercised by everybody in the organisation, the effect will be truly powerful. 'The 31 Practices' contains the beautiful photography of Matthieu Ricard, whose images here have been used on the cover and to introduce each of the 31 chapters within the book. Ricard's work has appeared in numerous books and magazines".
More About The 31 Practices and the Authors:
Visit www.servicebrandglobal.com/31-practices/ for more details about the book, the 31Practices tool for organizations and the 'my31Practices' web-app for individuals.
Alan Williams and Dr. Alison Whybrow began their collaboration in 2011. Dr Whybrow is an award-winning Chartered and Registered Psychologist and Supervisor who coaches senior and high potential leaders across industry sectors.
Alan Williams, Managing Director of SERVICEBRAND GLOBAL, coaches service sector organizations, internationally and in the UK, to deliver inspiring service for competitive advantage. Alan created the '31 Practices' concept and approach. He is a Fellow of the Institute of Hospitality, a Board member of the British Quality Foundation and a Steering Group member of the recently formed UK Values Alliance.
Both authors will be speaking at the CIPD Organisation Development Conference and Workshop in London on 25 September 2013.
About LID Publishing:
Published by LID Publishing, October 2013.