On 10.4.15, the UK Values Alliance launched a campaign entitled 'UK GENERAL ELECTION 2015 – A FOCUS ON VALUES'. We emailed parliamentary candidates and party leaders about this with a request to complete 3 key values related questions:
1. What are your five highest priority/core values as an individual standing to become an MP?
2. What are the five highest priority/core values for your political party?
3. What are the five highest priority/core values you would like to see present in UK society?
We stress that this is a non-partisan enquiry. However we do intend to share what we learn in response to our questions as general findings, not highlighting individual responses but showing results by political party. We will also share response rates and possibly present these as a regional breakdown.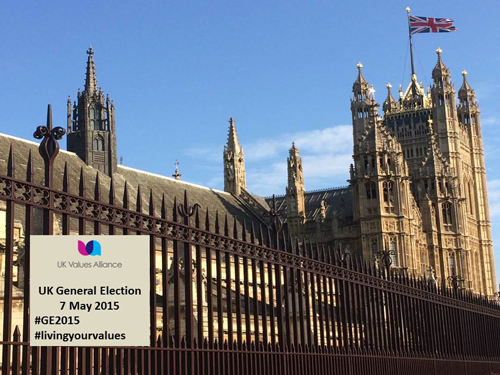 Email to Your Local Candidates
We would ask those who support the UK Values Alliance and its vision 'to put values at the heart of society' to join in by sending the standard email  as written to their local candidates as soon as possible asking for responses by 20.4.15. Alternatively, if you wanted to write and ask the candidates for your constituency the same 3 values questions noted in the standard email using your own words, please do. If you get an answer we would love you to let us know via our contact form
Social Media Action
Social media is an important part of this campaign. Can you please tweet about the campaign using the hashtags #livingyourvalues and #GE2015. Would you also please tweet about anything relevant to values and the election over the period using these same hashtags. By 14.4.15, please send other tweets with the same hashtags to our associate, Deap Khambay, using info@ethicalvalue.com. These latter tweets would then go out under UK Values Alliance over the period of the campaign. Please also join our LinkedIn group discussions https://www.linkedin.com/grp/home?gid=8157715
Press Release
Please send the Press Release as written to any contacts you have in your local or main media
Your support for this campaign will be greatly appreciated. Let's find out the values that are driving our potential MPs to make the UK a better place to live.